Oracle Blockchain Platform - Session with Mark Rakhmilevich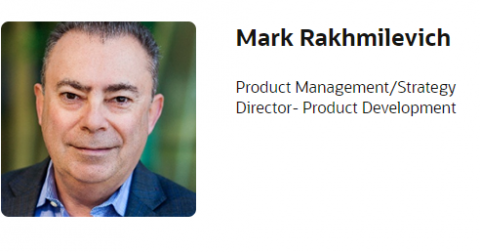 A big thank you to Mark for giving this RE-introduction to Oracle Blockchain Platform and sharing an overview of some actual "real world" use cases - it's not just theory.

(A shout-out to Gary Crisci at GE who introduced us to Mark and who worked closely with Mark in creating GE's Intercompany Blockchain PoC that we've already heard about in previous sessions.)

The audience included a cross-section of organizations: Oracle customers and partners. We decided to skim over the technology (this time) in the spirit of "most decision makers don't care about what's under the hood; how does this work as a user interface!"

Mark briefly described principles and Oracle's approach; then moved on to real world examples. One example mentioned was Oracle's "Intelligent Track and Trace" offering. (See youtube video link below.) That was certainly interesting for those with Supply Chain challenges. The visualization shows Blockchain use is not just about interpreting long alphanumeric strings. Another application Mark and his team had delivered for a large global customer (using "low-code/no-code" development tools that sit on top of the Oracle Blockchain Platform) is an end-to-end consultants' timesheet management application. This solution struck a chord with all of us who have entered, managed, disputed and/or approved/paid consultants based on time recording.

The group touched on the topic of "data residency". Some countries are getting stricter. Mark explained that on-premise Blockchain Platforms were available where data centers were not (for example, China). This is more than a Blockchain challenge and was a useful diversion.
If you want to find out more about Oracle Blockchain Platform and it's use cases, then please join our next call with Mark. He has kindly agreed to visit us again soon. <<<< Date to be confirmed.>>.

Finally, a thank you also to those who participated. That made for a great interaction.

---
Comments
No comments made yet. Be the first to submit a comment
Stay Informed
When you subscribe to the blog, we will send you an e-mail when there are new updates on the site so you wouldn't miss them.